Top 7 Reasons to Start Your Digital Marketing Career at an Agency
5
min
read | Apr 12, 2022
Do you know you're one of the five billion people in the world using the internet today? That's equivalent to a whopping 63% of the world's population, and the numbers are still climbing!
No wonder most businesses have embraced the power of digital marketing. It's a huge market, so if you have a knack for writing, copywriting, data analytics, SEO, video production, and being just generally persuasive, it's high time you start a digital marketing career.
What Exactly is Digital Marketing?
You may not be aware of it, but you're already entering the world of digital marketing as you scroll through your phone or computer. When you read blogs like this one, get served an ad on YouTube, or are sent a newsletter by email, those are all types of marketing strategies enticing you to subscribe, buy, or sign-up for something.
Digital marketing is also a strategic method to reach out and build a relationship with consumers and ultimately form brand loyalty. Since the beginning of the digital age in the 1990s, it has continued to evolve and improve until today.
7 Reasons to Start Your Digital Marketing Career at an Agency
Digital marketing is a rewarding career. Here are six of the major benefits of starting a digital marketing career at an agency:
1. Get Hands-on Training
There's nothing quite like hands-on training when it comes to honing digital marketing skills. And that's what you'll get from working at an agency. 
Unlike when you directly apply for digital marketing positions at specific companies, digital marketing agencies are open to accepting fresh graduates. Agencies believe that even candidates with no prior experience could have a high-value mindset and great potential in terms of fresh creativity and innovation.
If you're determined to have a strong head start in your digital marketing career, the flexible in-house training offered by most agencies is perfect for you. 
2. Find Your Niche Faster
Digital marketing has a lot of niches:
Search engine optimization (SEO)
Content marketing
Video marketing
Email marketing
Search engine marketing
Marketing strategy
Website development
Influencer marketing
E-commerce marketing
Mobile marketing & advertising
And the list goes on! Working at a digital marketing agency will give you a closer look at all these facets and help you find the specific digital marketing career that's perfect for you.
3. Work with Like-Minded People
Starting your digital marketing career at an agency means you won't be alone. Most agencies conduct training in groups where you'll meet like-minded people and other trainees who can help you overcome challenges. 
4. Work with Different Brands Across Various Industries
Some people never get tired of their industry, while others prefer some sort of variety. If you can relate to this, a digital marketing agency is the best place to be.
Working at a digital marketing agency allows you to work with different brands across various industries. One minute you're putting yourself in the shoes of someone searching for solutions to wrinkles, the next, you're thinking of how to market to new couples looking to buy their first home.
Regularly switching mindsets like that will keep things interesting and help you avoid the monotony of working at a regular office.
5. Stay On Top of the Latest Marketing Trends
One of the most common fears of marketers who leave their agencies is losing their skills. They're afraid they'd get rusty, or worse, their skills will become obsolete.
Because you're surrounded by fellow marketers at an agency, your knowledge continues to grow through osmosis. There's always someone—editors, managers, and pretty much the entire team—sharing the latest marketing trends and strategies with you.
Aside from that, you also have peers you can "compete" with to drive innovation and shared learning.
6. Make a Difference with Your Skills
Not every marketer realizes this, but they make a huge difference in the lives of entrepreneurs and business people. A significant increase in website traffic means a lot for smaller businesses and the people they employ. And for you, that's a huge personal achievement. 
By helping brands connect with their market, you're not just helping the companies, but the customers who need or are looking for their products and services as well.
7. Get One Step Closer to Becoming a Well-Rounded Marketer
Digital marketing agencies are usually one-stop solutions for everything a business needs to market itself to success. By working at one, you'll be exposed to the reality of how each department works hand-in-hand and is crucial to creating effective marketing solutions. 
From all the little details to the bigger picture, you'll be given an in-depth view of everything it takes to dream up successful marketing strategies. This will help you understand your own value and the company's value as a whole. You're bound to learn some bits and pieces from a variety of departments under the digital marketing umbrella that will help you sharpen your skills. 
As you move forward in your digital marketing career, everything you learn from such a dynamic work environment will help you become a well-rounded digital marketer.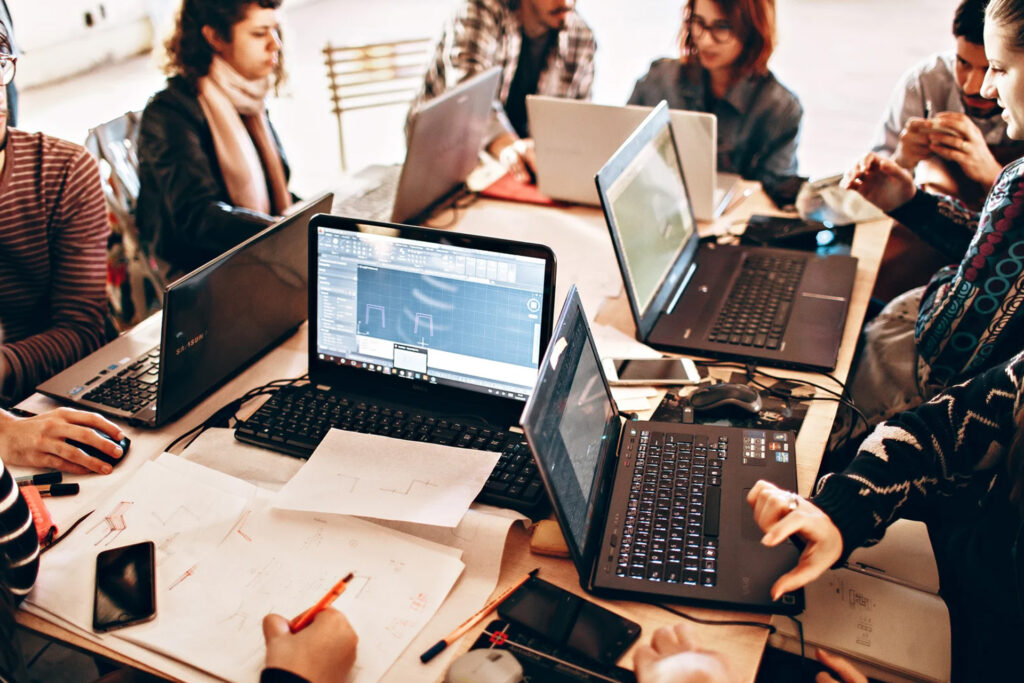 Activate Your Digital Marketing Career with Ad Culture
Are you ready to kickstart your digital marketing career at premier agencies?
Ad Culture is the best place to start. We are a recruitment agency connected with some of the biggest companies in North America and are always on the lookout for "unicorns" who want to apply their marketing skills.
Get in touch with us and start your digital marketing career journey today!
Let's chat
about building
your team!