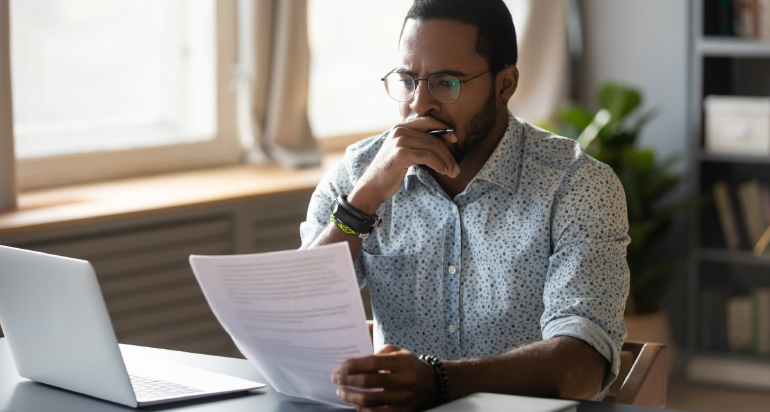 How to Conduct a Performance Review
An employee performance review is more than just an evaluation: it's a means to motivate team members to thrive in the workplace.
Hiring great talent is just the beginning. Nobody is perfect; performance reviews are an opportunity to check in and help your employees grow. When conducted properly, they can boost team morale, lay the foundation for further career advancement, and improve the quality of work—a clear win-win situation all around.
Consistency is key to a successful performance review process. Keep reading to get examples of performance reviews done right!
Communicate Evaluation Metrics
Employees have the right to know what criteria they will be evaluated on to feel prepared to receive constructive feedback. Establishing performance expectations and their associated metrics is the first step in an effective performance review process.
While you don't have to give out all the information, it would be a good idea to clue them in on the key performance ratings. You can opt to send them the criteria a few weeks in advance or let the information be accessible all year round via performance management software—the goal is to have no secrets or surprises!
Prepare Feedback In Advance
Being well-prepared is a superpower, and you can use it to your advantage when reviewing employees' performance. This is especially true for an annual performance review—you should have spent the last year taking notes on their work!
Take the time to gather your thoughts in advance. The feedback you prepare sets the groundwork for the performance review. More importantly, having your notes in order ensures that you don't miss out on any essential points regarding your employee's performance. Examples of a performance review gone wrong will typically include managers filling out forms in front of their employees… don't be that boss.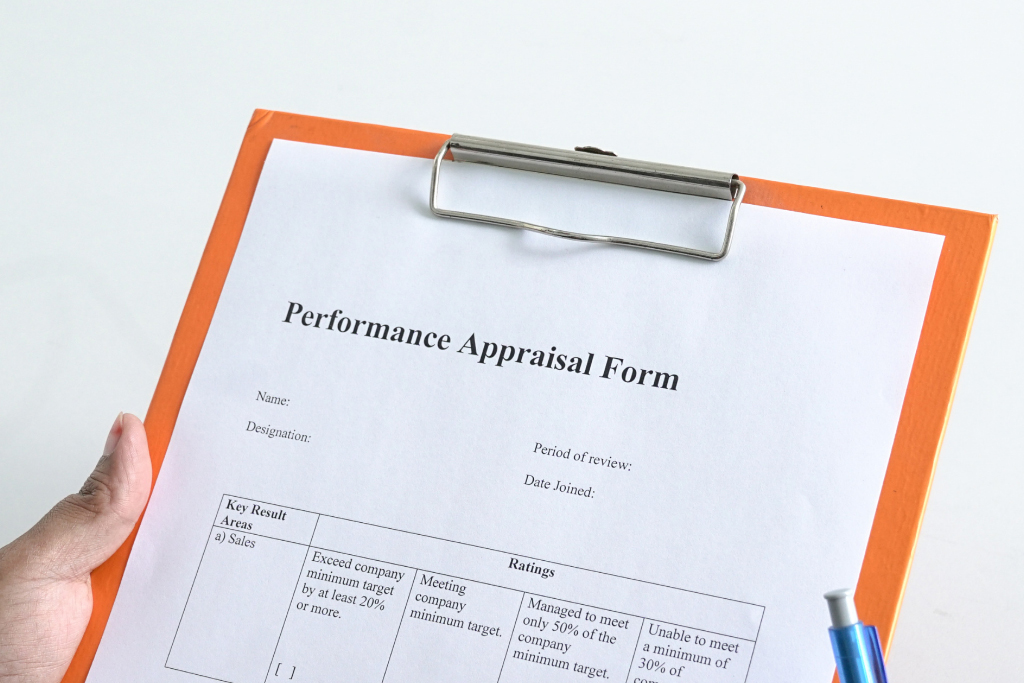 Encourage Employee Input
We're sure you have a lot of great advice and constructive criticism to offer. Nonetheless, keep in mind that performance reviews are only useful when conducted as an open conversation rather than a lecture on past performance.
Employee feedback will benefit them and you as well. When you're reviewing employees performance, it's a chance to ask them to perform a self–evaluation, which will give you a look into how they perceive their strengths and weaknesses as a team member.
However, having them do a self-assessment on the spot can be tricky. Consider sending them this self-assessment form in advance, or just simply encourage them to be more vocal by asking the right questions. Examples of performance review questions you can ask your employees may include:
What would you consider to be your biggest achievement in the past year?
What are some examples of your work that exceeds expectations?
Which areas of your work would you say require more improvement?
How can I support you to meet your career goals?
Is there any feedback for me or any concerns you would like to address?
Be Future-Focused
Next on our list of tips for reviewing employees performance is peering into your crystal ball. What's to come matters just as much as what already happened—trust on that one!
After you briefly comment on past work performance, shift the focus to future performance. Keep the negatives as concise as possible, insteading focusing on how growth will lead to positive outcomes in the future.
Shine the spotlight on the future by mapping out new objectives and discussing plans for further development. It's all about fostering a healthy work relationship that aims to reach mutual success. Finish strong with a forward-focused notion that leaves the employee feeling motivated rather than criticized.
Share a Copy of the Review
Most employees find immense value in receiving honest feedback. To that effect, don't forget to issue a copy of the performance appraisals once the meeting has concluded.
This document will serve as a reference for future improvements and a reminder of previous successes. Managers and employees will both benefit from this, as everyone will be on the same page about next steps. Additionally, you could deliver this digitally if your company uses performance review software.
Hold Performance Reviews Often
Holding an annual review has become the norm for most companies in their performance review process, but why not hold them more frequently?
While the thought of a quarterly performance review might seem like overkill, it will likely produce many more benefits. It can be hard to assess whether someone deserves a raise or a promotion if you only review employee performance once a year.
Evolving from an annual review format also helps team members get accustomed to discussing their achievements and challenges. It nudges them to be more open about sharing helpful feedback that can benefit everyone.
Increasing the frequency also helps iron out performance issues. Bad habits or mistakes that have gone formally unaddressed for an entire year will be hard to correct!
Successful Employee Reviews Start at Recruitment
As you now understand, the benefits of an employee performance review are plentiful—especially when you're reviewing high-quality employees. Performance management is easier with an A-plus team!
At Ad Culture, we help businesses hire the best talent. We'll help connect you with would-be employees sure to excel in their performance reviews thanks to a combination of skills, experience, and the right attitude. We know who you need!
Contact us to start hiring star talent today!
Let's chat
about building
your team!