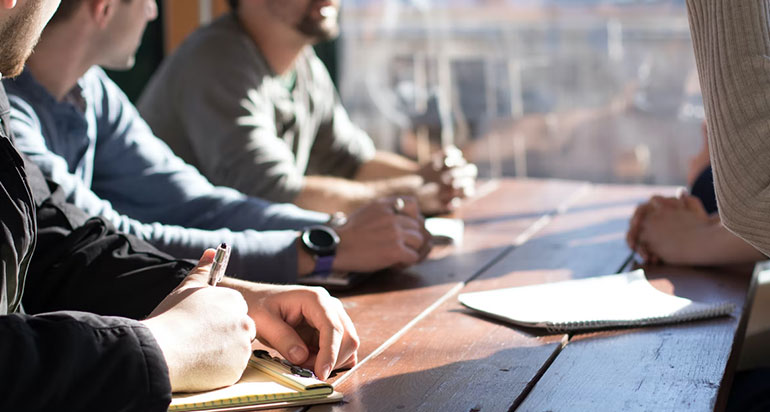 9 Benefits of Using a Toronto Recruitment Agency
Jan

21

,

2022

Ad Culture Admin
0 Comments
It's tough to find the right employee in a highly competitive, candidate-driven job market. Not only is it time-consuming, but those who apply for jobs either don't have sufficient skills or there's a skills mismatch.
Sure, you might find potential candidates through LinkedIn, Indeed, and the like. But the range of skills you'll find from hiring platforms is usually too broad to fit certain roles. 
Besides, what it takes to find the right applicant requires a specific set of skills—skills hiring experts like recruitment agencies have.
9 Reasons Why You Need a Toronto Recruitment Agency To Find Your Next Employee
Posting job openings on Toronto job boards might attract passive job seekers, but it's not enough to engage the best applicants. This is where a Toronto recruitment agency comes in handy. 
They can be beneficial in the hiring process not just for HR managers, but also for the company as a whole. Here are nine reasons why you need an agency to find your next employee:
1. They Can Help Fill Open Positions Quickly
Hiring is an expensive and time-consuming process. You need to advertise the job opening, set aside time (a lot of it!) to review resumes, do background checks, give assessment tests, conduct interviews and do other recruitment-related tasks. This doesn't include the money the company is losing while the spot remains unfilled. 
A recruitment agency can help you save time and money by filling the role much more quickly than if you do the hiring yourself.
How? Recruitment agencies recruit for a living. They collect resumes, assess, and filter job seekers as part of their business. They are experts in their field which means they have the skills to significantly shorten the time it takes to fill a job opening.
2. They Don't Just Advertise and Wait, They Actively Seek Out Candidates
Employers who advertise job openings often end up receiving applications from candidates who don't have the right calibre for the job. They end up wasting time sifting through these applications.
Simply advertising through conventional means is a weak strategy. It isn't enough to reach out to experienced candidates. And if they're not aware of the vacancy, how can they apply for the job?
A recruitment agency doesn't just post a job online, they actively seek out professionals for the job. The truth is, people with niche skills might not be actively looking for another role, but once they hear about a new opportunity, they might change their minds. 
3. They Have a Wide Network of Highly Qualified Candidates
Recruitment agencies spend years building their own pool of talented candidates. They do this through networking, referrals, regular interviews, and other methods. It's a process most companies don't have the skills, experience, or time for.
When you work with a recruitment agency, you get to utilize their wide network instead of building one from scratch. The agency can quickly get in touch with potential candidates within their network so they can be invited to apply.
4. They Have the Ability to Spot Talent
If photographers have the "eye" to see things in a creative way, professional recruiters have the ability to identify talent when they see it. It's another reason why they can hire candidates faster. 
But more than saving time, a recruitment agency helps you find the person that fits the position. Since agencies work with both companies and job seekers, they know what the company's requirements are to the smallest detail and can use it to find the talent that's suitable for the role.
5. They Can Negotiate Salaries on Your Behalf
Recruiters help companies benchmark remuneration against other companies in the industry. This way, you'll have an idea of what the current trends are before entering salary negotiations. 
Once the salary has been benchmarked, an agency can negotiate salaries on your behalf. They can help you and the candidate reach a realistic and mutually acceptable salary package.
6. They Can Conduct Interviews for You
Narrowing down applications takes time and skills. Recruitment agencies can sift through the maze of applications and conduct interviews on your behalf to create a shortlist. This way, you can spend your time on other important things.
Recruitment agencies can also advise on what to ask candidates when it's time for the final round of interviews.
7. High Retention Rate
Most companies that don't use recruitment agencies usually end up hiring someone just to fill the gap, not because they found the right person. And so, what often happens is the new hire ends up resigning from their post in just a few months. 
Recruiters have a defined methodology in their selection process that helps prevent this. Aside from looking for the right skills, they also focus on finding someone that fits your company culture to ensure long-term retention.
8. They Have Industry Expertise
Some recruitment agencies have specialist recruiters for certain industries. For example, an advertising recruitment agency has the skills to find brilliant account managers, web designers, and even more niche roles in the industry like Google Analytics specialists more than, say, a tech recruitment agency would.
They have industry-specific knowledge and a deep understanding of what's required. Thus, if you're an advertising firm, it's better to work with an advertising recruitment agency than those specializing in other industries.
9. They Understand What Employer Branding Is
A good recruitment agency understands the importance of employer branding. They keep this knowledge in mind as they scout for potential employees, making sure they get a feel of your brand and your business as a whole even before they get hired.
Make Hiring Easy With Ad Culture
Why spend your valuable time combing the whole of Toronto for the perfect candidate when you can spend it building your business? Let recruitment experts like Ad Culture handle it for you instead!
Ad Culture is a top advertising Toronto recruitment agency with decades of experience hiring advertising professionals, marketers, and specialists. So if you're on the lookout for an agency equipped with the skills and experience in this field, we can help.
Get in touch with us today for more information on how we can help you find your next unicorn employee.